Australian Critics of Scientology
This page maintained by David Gerard.
Scientology organisations in Australia: Melbourne
All images are self-linked JPEGs.
Photos by David Gerard.
---
Church of Scientology
42-44 Russell Street, Melbourne 3000
phone: (03) 9654 8655, (03) 9650 6029
fax: (03) 9654 2358

1972-1978 address was 724 Inkerman Road, North Caulfield 3161; phone (03) 509 8533 (S20CR, TD75, WIS78). This building burnt down in March 1979 and was replaced by the 42-44 Russell Street building in July 1980; in between, the Melbourne org operated out of the home of Scientologist Robert Allsop.
From 1975-1978 (if not longer), the Melbourne CoS published the FSM Newsletter, some 1978 issues being titled Reaching Out: the FSM newsletter of the Church of Scientology (Day) - a few scrappy typed and mimeographed sheets of sales motivation, some with tech bulletins attached. The 16 Mar 1978 issue states "registered in Victoria as the Church of the New Faith, Inc."

Citizen's Commission on Human Rights
42-44 Russell Street, Melbourne 3000
phone: (03) 9654 8970

Note that this office is listed in the phone book as 'Commission', not 'Committee' as for the Sydney office.

Mission of Melbourne
55a Glenferrie Road, Malvern 3144
phone: (03) 9576 1834

This address and phone number is also listed in the White and Yellow Pages under 'Hubbard Dianetics Foundation'.
WIS93 lists an apparently-defunct mission in Camberwell: 2nd Floor, 235 Camberwell Road, Camberwell 3124. This location now (January 2000) appears to be a dentist's office.

Applied Scholastics
319 Canterbury Road, Ringwood 3124

This listing is from WIS93.

WISE Charter Committee Melbourne
274 High Street, Windsor 3181

This listing is from WIS93.

Education Made Easy
6/54 Kneen Street, North Fitzroy 3068
phone: (03) 9428 7148

Listed by ABLE.
Director: Marian Vasjutta.

Future Track
1/54 Crawford Road, Clarinda 3169
phone: (03) 9562 7227

Listed by ABLE.
Director: Crystal Duffy.

Yarralinda Private School
4 Birchwood Drive, Mooroolbark 3138
phone: (03) 9727 3032, (03) 9727 4405
---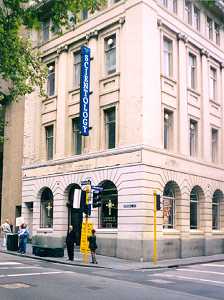 1. Melbourne Org from south-west (at March 1998 demo).
---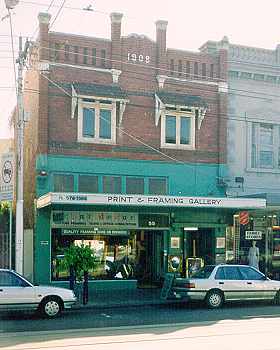 2. Long shot of print shop Print Décor (55 Glenferrie Road) and attached Hubbard Dianetics Foundation (55a Glenferrie Road; just right of the print shop), a.k.a. the Mission of Melbourne.
3. Foundation door, blocked by a framed print.
4. Foundation door close up. Nothing Scientological, but lots of pictures and frames. A4 laser-printed sign:
HUBBARD
DIANETICS
FOUNDATION
55A GLENFERRIE ROAD
MALVERN
PH/FAX 9576 1834
OPENING TIMES:-
7pm - 10pm Tuesday Night
7pm - 10pm Wednesday Night
---
---
[Scientology organisations in Australia]