Australian Critics of Scientology
This page maintained by David Gerard.
Scientology organisations in Australia: Canberra
All images are self-linked JPEGs.
Photos by Louise Cook.
---
Church of Scientology
43-45 East Row, Canberra 2601
GPO Box 2545, Canberra 2601
phone: (02) 6257 6459
Dianetics: (02) 6247 8942

Mort Street, Civic 2601 is actually the same address.
Old address was 16/108 Bunda Street, Civic 2601 - it's still listed as such on the Dianetics Global Locator, which also has the old address for the Perth org.
Founding date 29 May 1980.
WIS78 lists under 'Groups' (1978):

Australian Capital Territory Scientology Group, 26 Templeton Street, Cook 2614.
Flyn Scientology Group, 37 Campanion Crescent, Flyn.

Citizens Commission on Human Rights
15 Blythe Close
ACT 2617

This listing is from WIS93. No suburb was listed. It appears to be a private home.
---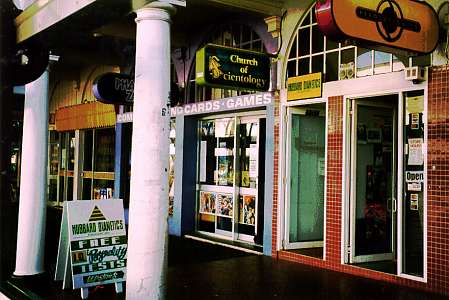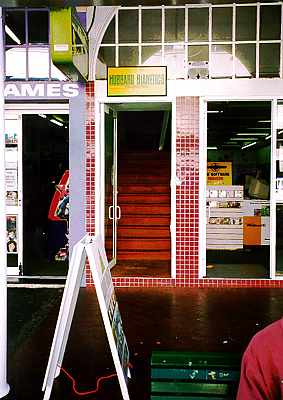 1, 2. Canberra Org, side and front shots.
---
More Canberra org pics on the August 1998 demo page.
A public member's still-unpaid refund, plus oddities in the original payment.
Fier on his best and worst experiences on staff at the Canberra org.
March 1998: A Knowledge Report from Org Executive Director Dean Detheridge on problems with then-staff Fier and Matt Dent.
April 1998: Life in the comic shop below the Org.
May 1998: Goblin Wizard: How the Canberra Org staff are actually reluctant to go Clear.
May 1998: Goblin Wizard: Canberra org workers on the dole.

March 1999: Louise Cook has written in more detail on the Canberra staff living on the dole while working 90 hours a week for the CoS. (Linked from Zenon Panoussis' site.)
Louise Cook: more on the welfare cult. "The Church of Scientology is a valid employer in Australia. Each staff member fills in an Employment Declaration Form at the beginning of their tenure and receives a Group Certificate each financial year. These people are not volunteers."

June 1998: A Knowledge Report from Canberra org Executive Director Dean Detheridge, demonstrating the SNAFUness of the CoS; plus commentary.
July 1999: Pertti Muhli and the sales tactics of the Canberra Org. Also, the gag order they wanted him to sign before getting a refund.
August 1999: Fier on numbers of Canberra staff and public.
September 1999: Sparrow fends off the survey taker.
March 2000: Canberra Org reconnaissance.
March 2000: Advertising for the Purification Rundown in a local government shopfront window removed.
---
[Scientology organisations in Australia]