Sydney Morning Herald, Sat 04 May 1996, p13
Scientologists' message goes up in hi-tech smoke
By Andrew Hornery
Marketing Writer
Australia's most elaborate billboard, a giant three-dimensional volcano unveiled in Sydney's George Street theatre district, won't be selling soft drinks or hamburgers but the path to religion.

The 330-square-metre billboard, including a five-metre-high television screen, will be used to promote L. Ron Hubbard's 1950 book Dianetics, the foundation stone of the Church of Scientology.

Unveiled by Hollywood scientologist Nancy Cartwright - the voice of cartoon character Bart Simpson - the volcano has been positioned on the facade of the Metro Theatre building.

Expected to last for six years, it was designed and built by outdoor advertising company Claude Neon for Woodbridge & Associates.

A development application was lodged with the Sydney City Council in April last year and was on public display for two weeks. It is understood one objection was lodged. The council granted approval subject to developers meeting several conditions.

These included illumination not to affect residential amenity, operating hours between 10 am and 1 am, no amplified noise, advertising to comply with industry codes, and the volcano not to be altered without council approval.

The managing director of Woodbridge & Associates, Ms Carmel Underwood, a scientologist for 16 years, told the Herald the volcano symbolised the "power and strength of dianetics&quot.

She said the volcano would play "commercials" for dianetics, portraying "graphic scenes that depict mental health issues followed by the dianetics solution".

"Dianetics is not religion. Dianetics deals with the area of mental health and enables people to eradicate unwanted mental conditions that we as people all have to contend with. Dianetics is used by people of all denominations," Ms Underwood said.

"Scientology deals with matters of spiritual being. Dianetics was the forerunner to the Church of Scientology."

Telephone numbers and details on how to obtain copies of Dianetics will be flashed during the ads. A special "testing centre" has also been established near the volcano where people can "go and have their situation evaluated".

Ms Underwood said several celebrity scientologists who used dianetics would also appear in the commercials. Actors Tom Cruise, John Travolta and entertainer Kate Ceberano are members of the Church of Scientology.

It is understood negotiations are underway for other advertisers to sublet the advertising space.

"We chose that site because of its availability and the type of public who gather there," Ms Underwood said. "We wouldn't have put this kind of sign up in Kings Cross or Oxford Street. George Street attracts all sorts."

The volcano is 33 metres wide, 10 metres high and projects three-and-a-half-metres from the Metro's facade. It is internally illuminated by 150 special display lamps synchronised to create a stylised simulation of lava flowing down the sides of the volcano. Each eruption heralds the screening of ads on the TV screen. Non-toxic smoke will spew from the crater at regular intervals.
---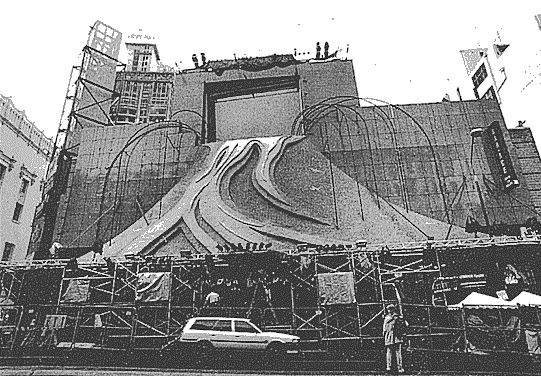 Hard sell ... the billboard will spread L. Ron Hubbard's teachings. Photograph by PETER RAE
---
[Press]